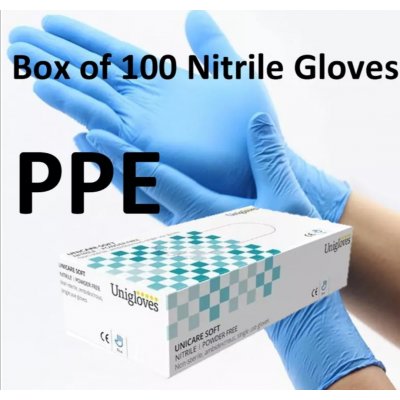 100 Disposable Powder and Latex Free Gloves Blue
100 Disposable Powder-free Latex-free Clear Vinyl Gloves Nitrile Blue
Info for All customer:
You don't need to worry that you won't get your items. The airports are closed but that doesn't mean that the delivery is not working. The items are in stock within EU and we are doing with DHL service door to door.
Vinyl Gloves Powder and Laxex Free - Boxes of 100
Unigloves Vinyl gloves
are made with a unique low-friction inner polymer coating for smooth donning and are tapered at the wrist to better fit your hand. Unicare vinyl gloves feature beaded cuffs for extra strength and tear resistance.
Features:
AQL 4.0 - Meets industrial standards for pinholes
Free from latex - Suitable for those with latex allergies (Type I sensitisation)
Free from powder - Reduces risks of latex allergies (Type I sensitisation) and minimises particulate contamination
Tested to EN1186 -Suitable for contact with non-fatty food types
Ambidextrous - Ambidextrous fit means you don't have to split a pair to replace a damaged glove
Manufactured using high-quality vinyl - High-quality vinyl combines low cost with reduced risk of protein allergens
Beaded cuff - Beaded cuff provides extra strength during donning and helps prevent liquid roll back
Medium-weight construction - Medium-weight construction provides a balance of strength and sensitivity
Conformity:
PPE Reg 2016/425 - For minimal risks only
EN1186 - Food safe
Applications:
Care home work
Cleaning and janitorial
Dentistry
Dental hygiene
Emergency services
Food processing
General assembly
Healthcare
Hospital and clinical duties
Janitorial
Local Authority work
Painting and decorating
Printing
Nitrile Powder Free Gloves - Boxes of 100
These Nitrile powder free gloves are perfect for reducing allergic reactions that can occasionally be caused by other gloves. Made from a synthetic rubber with no natural rubber latex protein. Reduce cross contamination and keep hands clean by wearing these during cleaning or food prep. Suitable for single use only.
Material Nitrile
Single use
Synthetic rubber
Powder free
Fits left or right hand
Anti-allergy
---
---
Packaging
Your price with VAT
add to cart
S size

18.99

€

OUT OF STOCK

M size

18.99

€

OUT OF STOCK
---