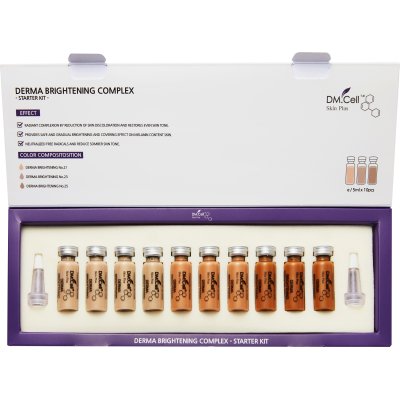 DM Cell Starter Kit
DM Cell Starter Kit Pigment
DM Cell BB Mesowhite MiX color Kit - BB glow treatment
DM Cell Starter Kit

⠀
Derma Brightening Complex Starter Kit in three colors! ⠀⠀
DM Cell Box contains 10 ampoules x 5ml:
The Derma Brightening Starter Kit (4x No.21,3x No.23,3x No.25)
What it is
Derma Brightening Complex is a professional MTS serum that blurs imperfections
And helps to minimize visible signs of aging, leaving skin looking flawless.
Formulated WITHOUT synthetic pigments, artificial fragrance, Parabens

Formulate WITH peptide/EGF, Niacinamide, Ginseng stem cell
What it does
After using it, skin is left refreshed, luminous and beautiful. Its perfecting formula fuses with the skin to help sheerly correct, unify, and enhance the complexion

It includes peptides, EGF, Ginseng stem cell to help skin to be fundamentally healthy.
What it contains
Gingseng Stem cell: activation of skin cells

Acmella Extract: Reduce wrinkles, lifts up skin, anti-bacterial

EGF: Regeneration, Restoration, Moisturization, Brightening, solution for pigmentation

Allatoin: Effect of wound healing, allergy inhibition

Niacinamide: Skin Lightening, Brightening
Expiration
expiration stated on the box
once opened use within 2 weeks and store in the fridge

Country of origin: DM.Cell product made in Korea
---
---
---