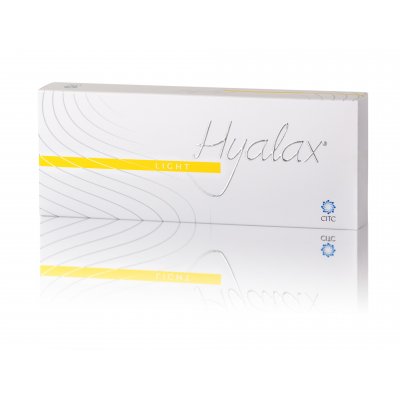 Hyalax Lip Filler hyaluronic acid
Hyalax®. Hyaluronic acid products for your natural beauty. Hyaluronic acid is a natural component of the skin.
HYALAX® LIGHT lip filler
Universal treatment
Hyalax® Light is a monophasic reticulated gel implant, based on hyaluronic acid of non-animal origin. It is a universal product and appropriate for different aesthetic treatments such as the correction of moderate facial wrinkles and lines as well as the enhancement of lip volume. Hyalax® Light is injected into the mid to deep dermis to achieve a very natural look and long-lasting correction. It is recommended to repeat the treatment after 6-9 months *.
Product detail: 1 box contains 1ml.
Treatment areas:
- Forehead furrows,Nasolabial folds,Glabella,Perioral wrinkles,improves complexion,Tear through,Marionette lines,Lip volume, Lip contour
Concentration HA – 23 mg/ml
Reticulating agent – BDDE 9%
Cross-linking level +++
Packaging – 1x1ml
Needle: 2×27 G ½
* Average duration depends on several factors: patient's skin type, severity of the wrinkles to be corrected, type of injection and volume injected.
We guarantee:
Quality
immediate and long-lasting effect
high viscosity for a great filling capacity and optimized elasticity for modeling and a natural aesthetic look
easy to inject, homogenous and smooth for optimal control and comfort throughout the injection
Safety
non allergenic, no need of allergy testing previously to the treatment
limited risk of side effects or inflammation thanks to our unique process of purification, oxygen removal and sterilization .
easy to inject, homogenous and smooth for optimal control and comfort throughout the injection
Comfort
short glass syringe
special shape of plunger rod
ergonomic fingers grip (360° rotation)
stability and full control during the whole treatmen
Made in Germany.
Our products are manufactured in compliance with ISO 9001, ISO 13485 and GMP (Good Manufacturing Practice) standards.Toxicology and biocompatibility trials have been performed in compliance with the guideline ISO 10993.
* Average duration depends on several factors: patient's skin type to be corrected, type of injection and volume injected.
* By purchasing this product I confirm that I am authorised and licenced to use it
#hyalax #lipfiller #hyaluronacid
---
---