Stayve Starter Booster Kit 2
Stayve Starter Booster Kit II
The popular Stayve Starter Booster Kit with 5 new booster serums.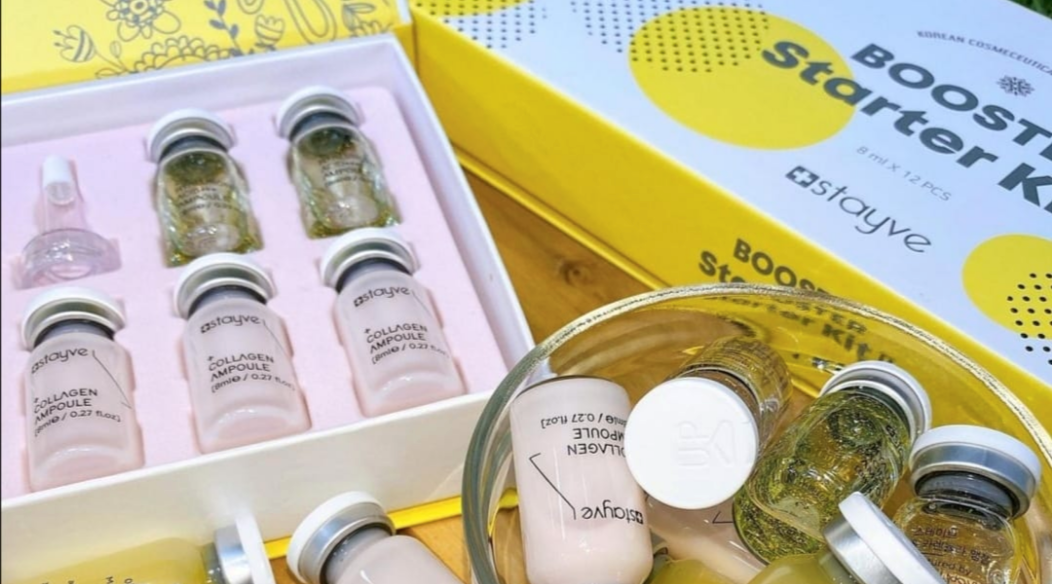 Stayve Korea
Stayve is a well-established Korean company specialising in the production of advanced and effective skincare products of the highest quality. The company aims to deliver products with long lasting effects making the skin look cleaner, wealthier, younger, and more vibrant. All products are KFDA approved and certified as safe to use for a variety of treatments including BB Glow, Micro & Nano-needling, electroporation, oxygen therapy, Derma pen, or ultrasounds. The company philosophy is to provide a quality, service, and up to date innovation.
More about BB Glow brands in our blog here.
What does the kit include?
Stayve Booster Starter Kit II includes 5 new different types of booster ampoules. This assortment of ampoules makes it convenient for use in any beauty salons. They have been designed to target specific needs such as moisturising, brightening, anti-ageing and increase skin immunity. They are perfect during micro-needling.
The kit includes 12 ampoules of 8ml of 5 new boosters.
2 x Hyaluron acid amouple

2 x Microbiome amopoule

2 x Citron and calendula ampoule

3 x Idebenone ampoule

3 x Collagen ampoule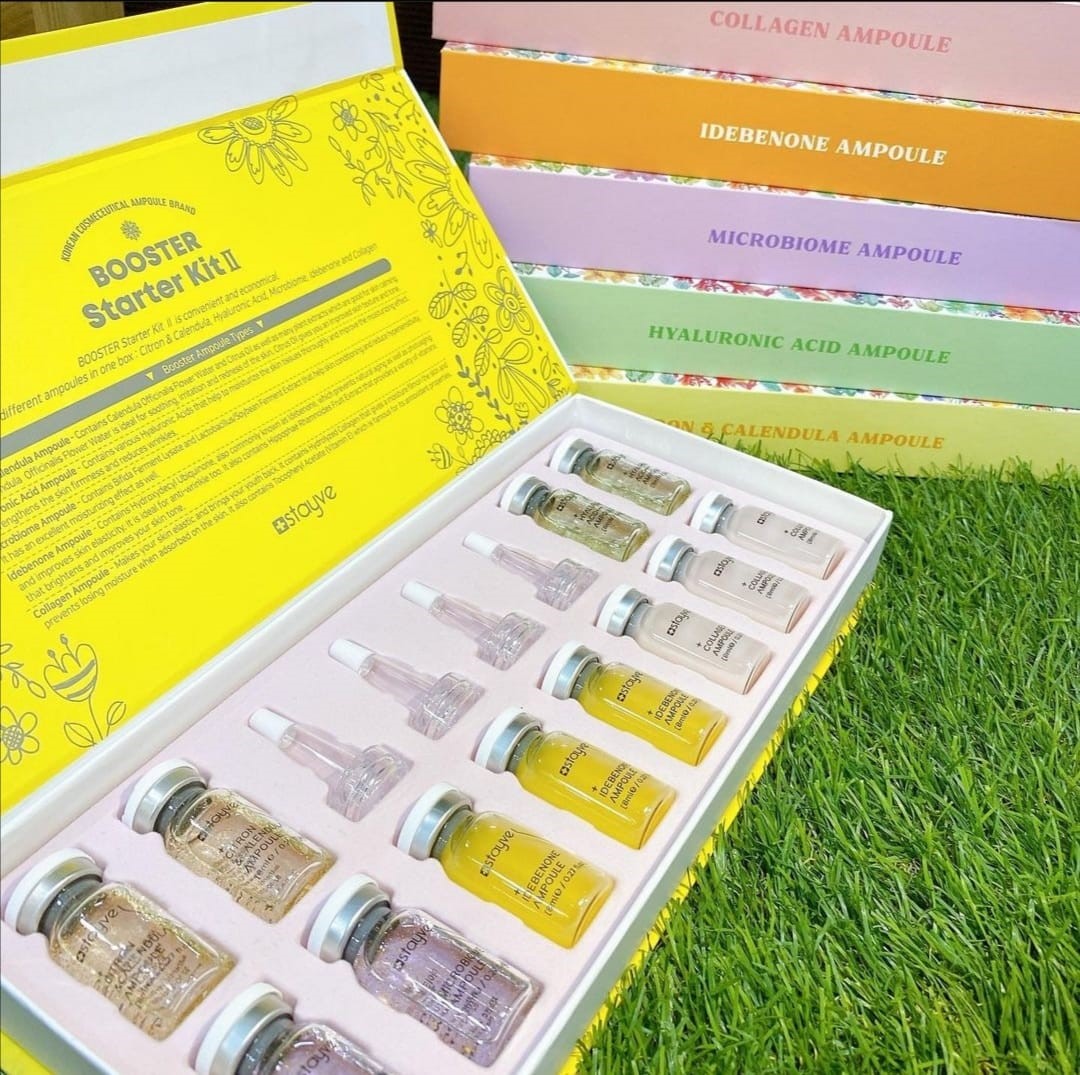 Booster Kit 2 Ampoules
Stayve Hyaluronic Acid Ampoule
Containing Hyaluronate as the main ingredient, it is perfect for a throughout skin moisture and helps to improve its moisturising power. It also contains other ingredients like Acetyl Hexapeptide 8 and Palmitoyl Tripeptide 1 which are helpful to strengthen skin firmness and as well as they reduce wrinkles.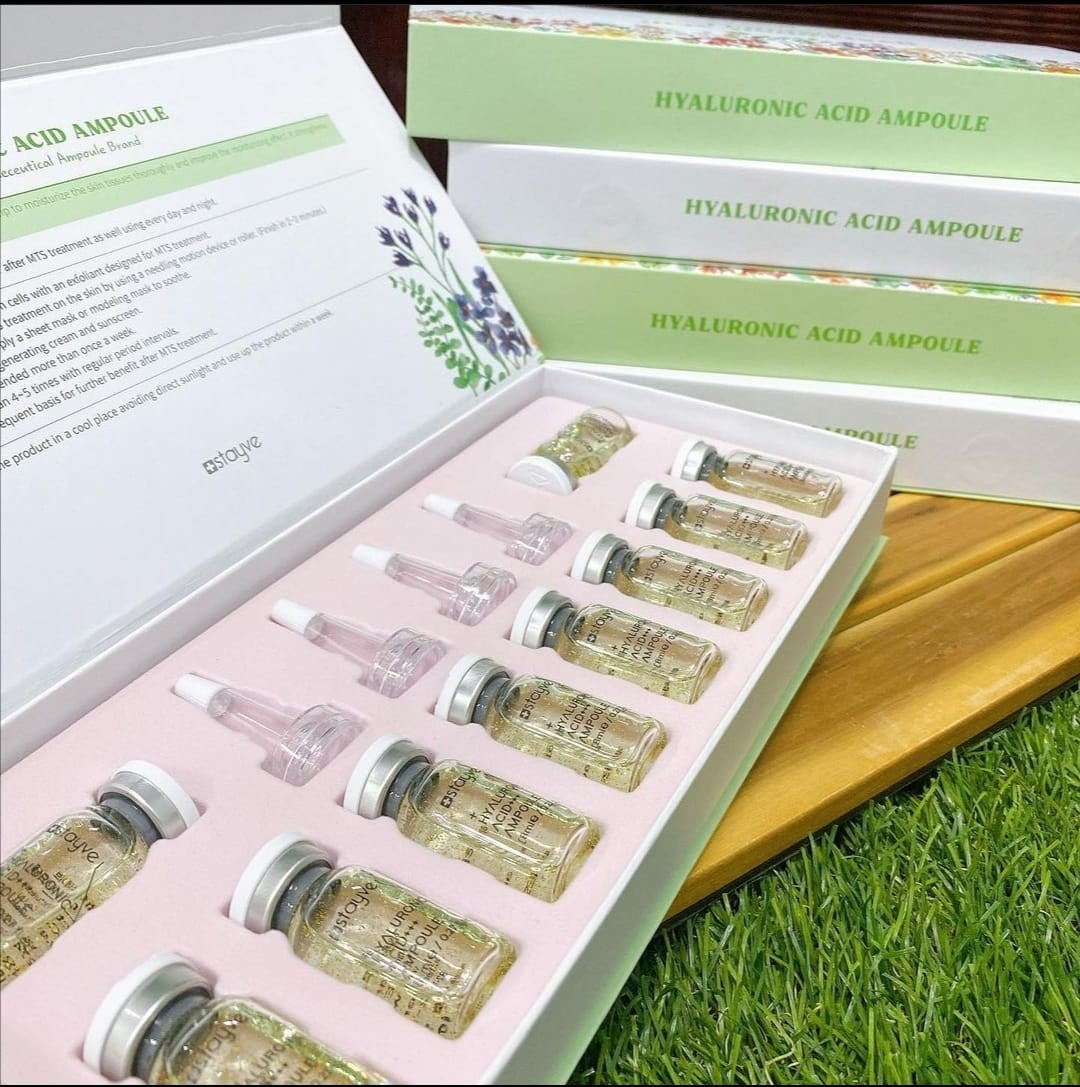 Stayve Microbiome Ampoule
This ampoule contains Bifida Ferment Lysate as the main ingredient. It is perfect for the improvement of skin's immunity and reduces the hypersensitive reactions of the skin. Other ingredients that are included are Lactobacillus, Soybean Ferment Extract that has excellent moisturising power. Vaccinium Vitis-Idaea Fruit Extract helps to whiten and give vitality to the skin.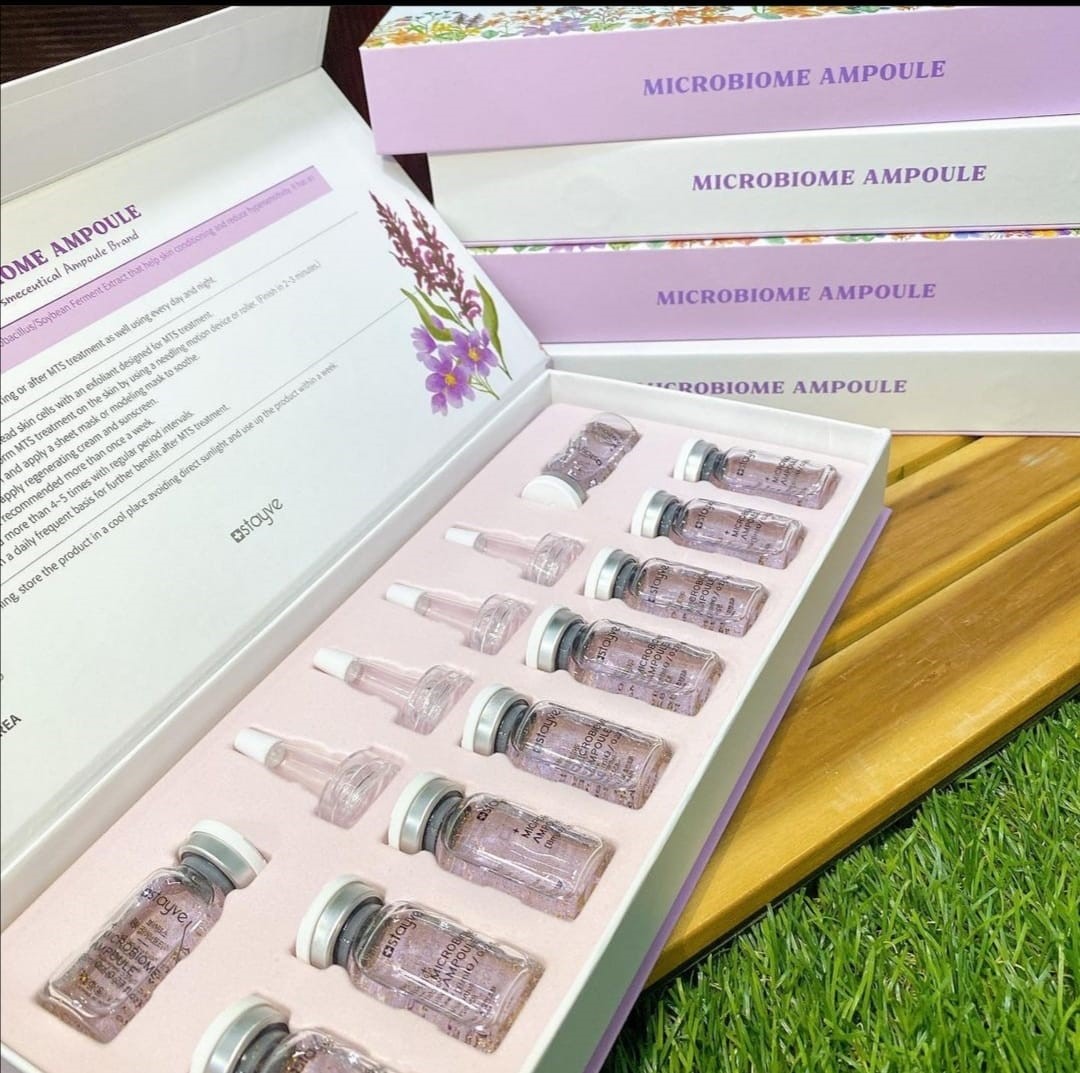 Stayve Citron and Calendula Ampoule
Cintron and Calendula Ampoule contains Calendula Officinalis Flower as the main ingredient. It is known as the Queen of skin calming. Furthermore, it supports calming and smoothening of sensitive or dry skin, heal wounds and helps inflammation. Containing Citrus Limon Peel Oil, it is ideal for oily and troubled skin.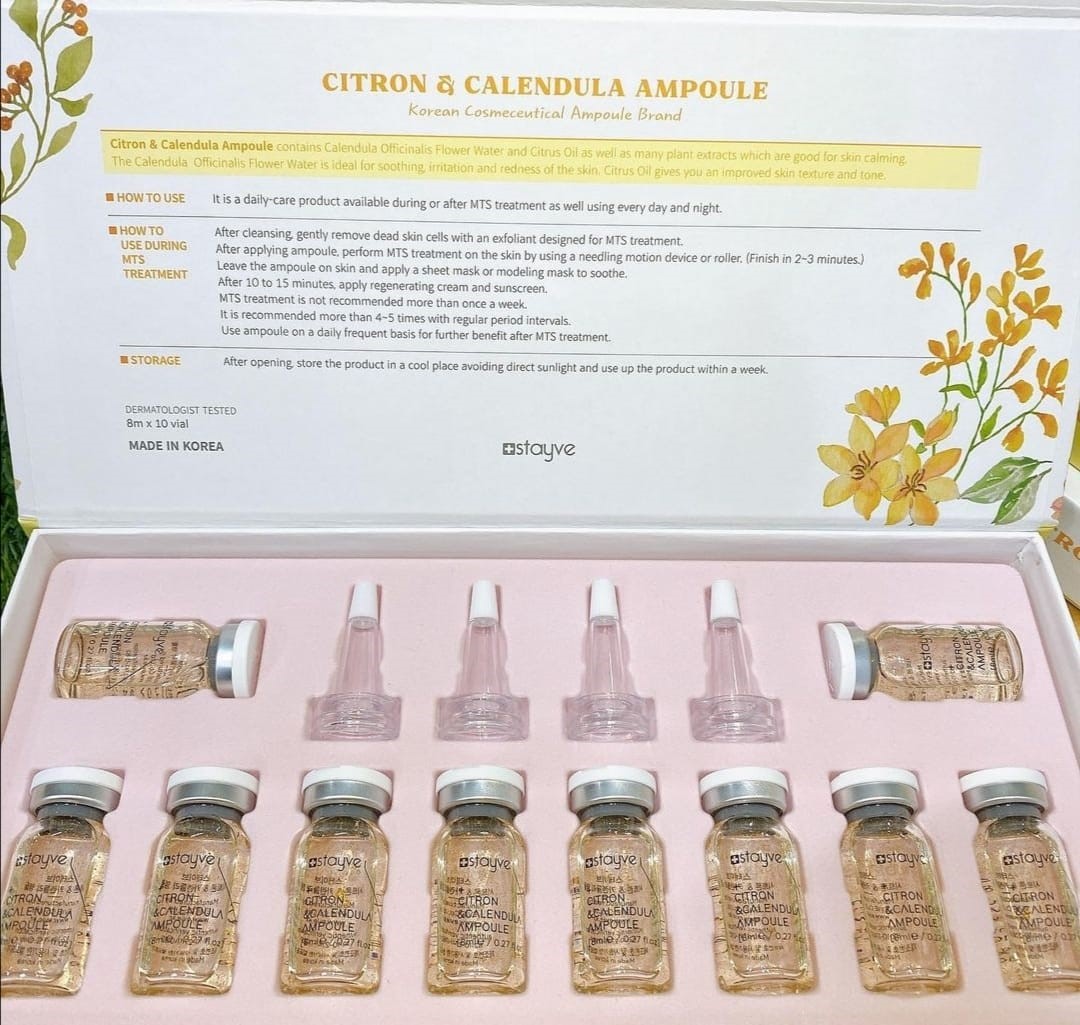 Stayve Idebenone Ampoule
The main ingredients are Hydroxydecyl Ubiquinone which is known as the strongest anti-aging substance. Therefore, it is perfect to tackle anti-ageing and improves the firming of the skin. It is 4 times more powerful effects than Vitamin C and 10 times more powerful effects than Coenzyme Q10. Other ingredients included are Allantoin and Hippophae Rhamnoides Fruit Extract which smoothens and nourishes the skin.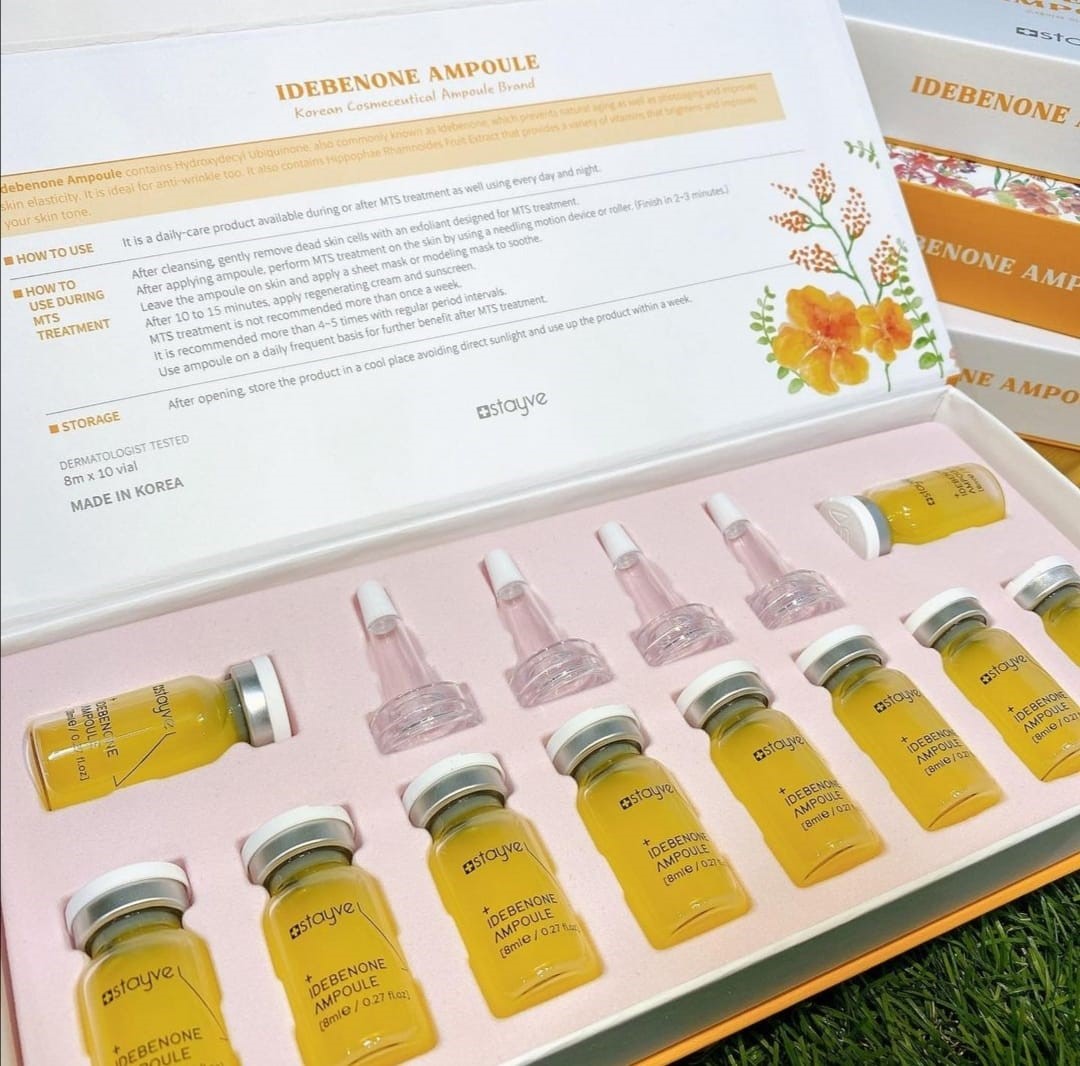 Stayve Collagen Am

poule
Hydrolysed Collagen is the main ingredient in this ampoule. It is ideal for firming the skin and anti-wrinkle treatment. It contains high protein which makes the skin firmer and builds a film to moister the skin deeper. Other ingredients included are Tocopheryl Acetate and Vitis Vinifera Callus Culture Extract. The Extract works as antioxidants that are ideal for ageing skin and balances skin lipids.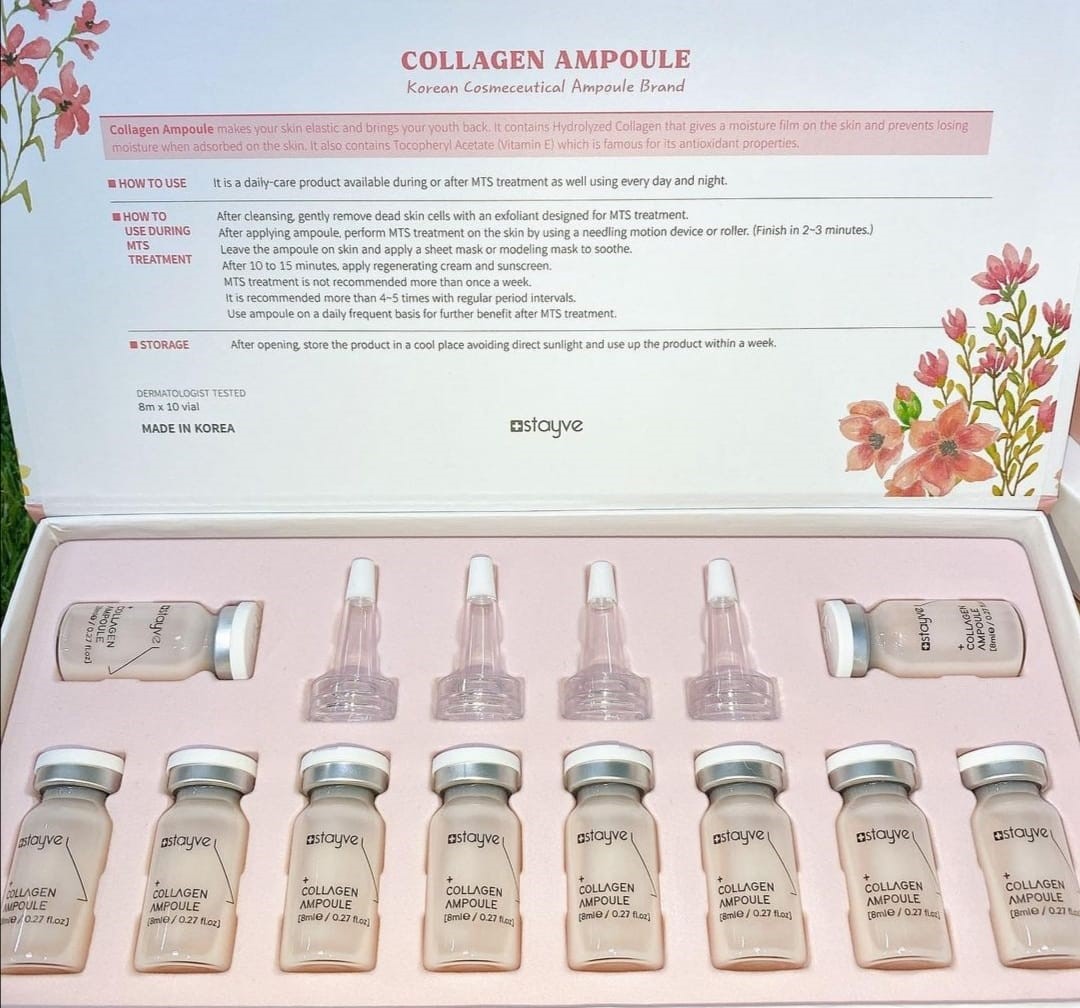 Did not find what you were looking for or do you have any questions? Drop us a message here!
For the latest product info and news follow us on our
Instagram or Facebook page to stay updated.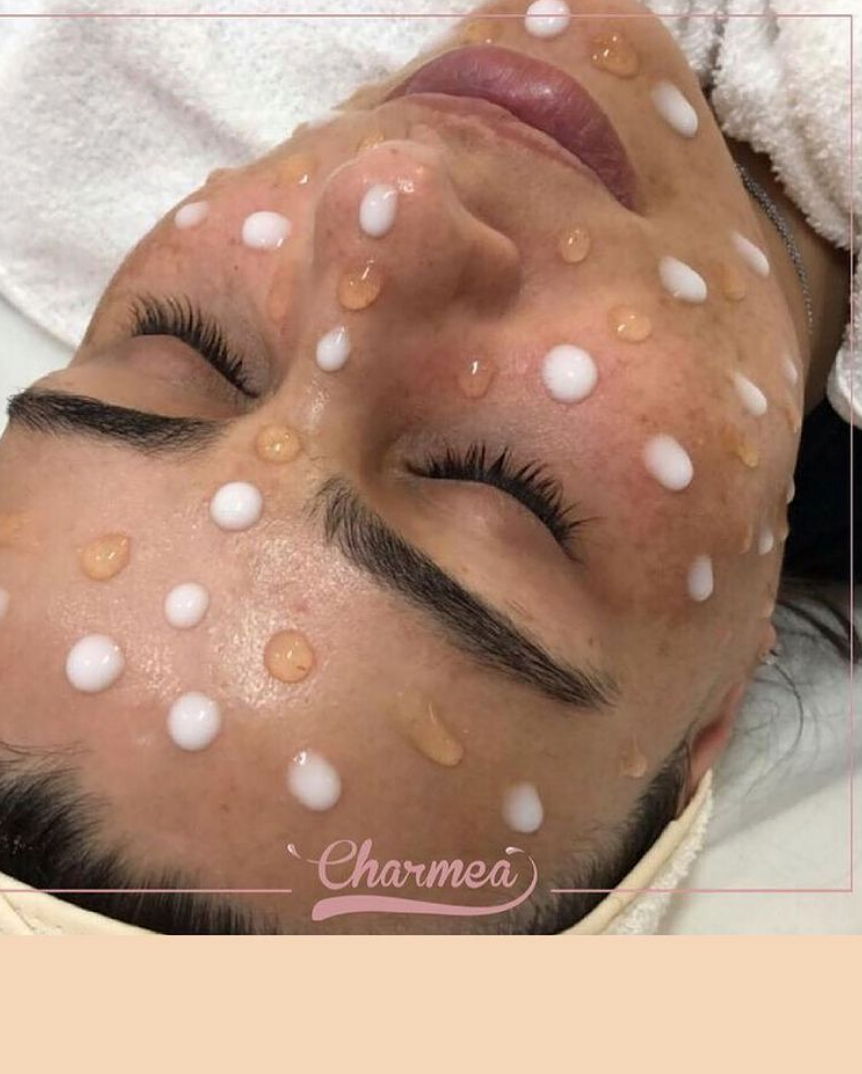 #bbglow #stayve #starterkit #boosterkit